Sunrise light on red rock mesa over
desert wildflowers bloom in spring,
Valley of the Gods, Utah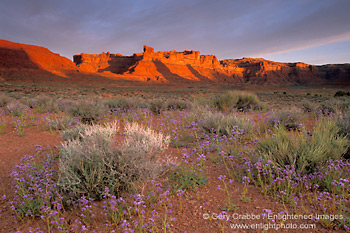 Image Search Terms
: Utah, Valley of the Gods, sunrise, light, red, rock, stone, flowers, wildflowers, bloom, spring, springtime, seasonal, flora, eco-system, environment, arid, hot, dry, harsh, desert, southwest, southwestern, west, western, American, outdoor, outdoors, scenic, travel, tourism, vacation, destination, tours, touring, vista, view, nature, landscape, lifestyle, stock, stock photography, digital, stock images, stock photos, picture, pictures, image.

COPYRIGHT© Gary Crabbe/ Enlightened Images. No use allowed without written permission
Valley of the Gods Region, Utah
Scenic stock photo & fine art image




Image ID# UTSEVG2-03
Please Note this image ID#.


---
HOW TO ORDER:
(1) Note the Image ID number above.
(2) Click the ARROW to open a NEW window or use the TEXT link to continue browsing in the current window.

Print Sizes & Prices
Mural Sizes & Prices
Price Quote for Stock Photo Use
(3a) For prints & murals, once you select the size, click the ORDER link and fill in the form using the image ID numbers and click SUMBIT.
(3b) For stock price quotes, fill in details on the form, including Image ID numbers, and SUBMIT
---
MORE INFO:
FINE ART PRINTS or WALL MURALS,
or use as a STOCK PHOTO for publication.